Sonshine Bath
It Is What It Is
Regular price
$100.00 USD
Sale price
$60.00 USD
Unit price
per
Sale
Sold out
Are you ready to get your hands on some of your faves for a huge discount? We've got you covered! This box can include UP TO $100 worth of product for ONLY $60! (You'll get anywhere between 3-5 candles and /or a few body products when available).
This box includes a RANDOM variety of candles, body butters, diffusers, soap, bath soaks and oils. Some of the items are discontinued. Some of the candles might be ugly. Some are things we've made that we'll probably never make again. lol. 
What scents are they? That'd ruin the surprise ;)
We cannot guarantee that you'll love everything you get. You might love some and you might hate all (I highly doubt this). It's like playing Russian Roulette with Sonshine Bath products.
BUY THIS BOX AT YOUR OWN RISK!
We wouldn't send you anything we wouldn't use. Most of what's in the box are either discontinued, imperfect or extras from collaborations we've done. 
Your candles may be frosted/discolored and that's perfectly fine, it's why they're included in this box at a discounted price. The look of a candle doesn't affect the scent throw so you can still enjoy it, even if it isn't the prettiest.
VERY LIMITED QUANTITIES AVAILABLE
Share
Customer Reviews
I recommend this product
PERFECT as always
I have been a happy customer of Sonshine for years, and these boxes are my FAVE! So many great products for a fantastic price. The love and quality poured into these products is unmatched and such a joy to experience. There is always a Sonshine candle burning somewhere in my apartment!!
07/02/2020
Katrina U.

United States
I recommend this product
Such a fun experience
These candles burn great and have the perfect scent potency! I love the matches, I feel like I'm treating myself every time I light one.
06/15/2020
Jessie B.

United States
I recommend this product
amazing!
these full size products are fantastic! while there are MINOR aesthetic imperfections, the quality is perfection!!! love them all
06/04/2020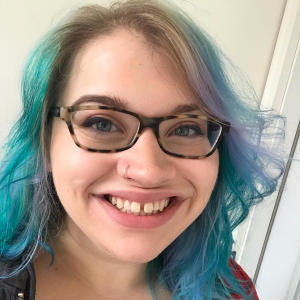 MY
Marcella Y.

United States
Wonderful Mystery Box!
I've bought this box twice now and it never disappoints. Sometimes I can't make up my mind, so it's easier if it's made up for me! I've never been mad at a single thing that's come in this mystery box!
05/20/2020
Brittany M.

United States
I recommend this product
Absolutely delightful
The "It Is What It Is" mystery box is an insanely good deal and a great way to try out new scents or products. I got 3 candles and they all burn so long and clean and smell amazing. I also got a tub of body butter and I'm obsessed with it - i will definitely be buying everything in my box again.
05/11/2020
Grizelle M.

United States
I recommend this product
i love it!!!
I loved it so much!!! i cannot wait to order more. The candles are perfect and they smell amazing!!!!
05/10/2020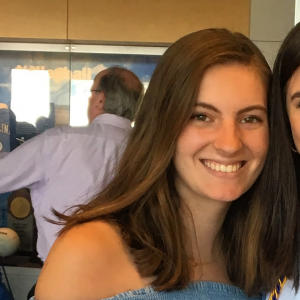 LJ
Lucy J.

United States
I recommend this product
Variety of goods at a great price!
I was really pleased with the value of this purchase. I got three candles and a body butter (Cheers, Coffee Before Talkie, the Hoodie one, and the Lemongrass body butter). Cheers and Coffee great Mother's Day gifts, really filled our home with a great scent after not burning for very long! I don't love the scent of the body butter, and when I first opened it I was surprised by the texture because I thought it would be more whipped, but it melts really easily and keeps me moisturized for longer than most lotions!!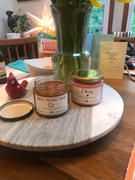 05/04/2020
Gabrielle R.

United States
I recommend this product
Wonderful candles!
The candles I received in this mystery box were Stolen Hoodie, Cheers, Calm the F*ck Down 2.0, and the coffee one (I cannot recall the name at this time!) and they all smell sooo good! I've only lit Cheers and Calm the F*ck Down 2.0 so far, but they really make the apartment smell amazing! I can smell them from my kitchen if the candles are lit in the bedroom. Cheers literally makes me want to crack open some champagne and eat strawberries. I can't wait to order more!
05/02/2020
Kiara G.

United States
I recommend this product
Great products and great service
The products are always a amazing giving u smells on candles in body care you didn't even know was possible making you fall in love with the brand all over again with every purchase
04/19/2020
Emma J.

United States
I recommend this product
Mystery box
I was pleasantly surprised when I opened my package. It smelled delicious! I received 3 candles and a body butter for $50. Definitely a great deal. Now that I have an idea of the product, I will be making future purchases. The candles all smelled amazing and of course I loved the names of the candles!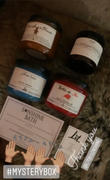 04/13/2020
Songi J.

United States
02/10/2020
Kathryn B.

United States
Do it!
Amazing deal! I got four candles and a body butter that is really luxurious. Can't recommend this enough!
02/09/2020
Shea J.

United States
I recommend this product
Candles!
So many yummy candles!! Xoxo
01/03/2020
Marcy

United States
I recommend this product
Wonderful
I purchased this box to get a feel for the products as I had never purchased any before - I wasn't disappointed! I received 4 candles and 2 body butters. The candles are comforting and smell lovely. The body butters are moisturizing without being greasy, and I can feel their effects for days after using them. Will definitely repurchase!
I recommend this product
Fun Gift
I gave this item as a gift and my sister loved it!
Beautiful Scents
I couldn't decide which products I wanted to purchase, so I settled on the mystery box. My oh my was I pleasantly surprised! I received two beautifully-scented candles and one reed diffuser. The scents of each exceeded my expectations. Have you ever smelled a candle from a store that smells completely artificial? Tuanieha's scents are not like that! The combinations used in Sonshine's products are beyond description. Trust me when I say they're effortlessly beautiful and elegant, and not overly produced or artificial like products from other stores can be. I'm excited that I've come across this store to purchase gifts for my friends and family (and definitely for myself)!!
tag, you're lit.
Love our candles because they're "punny"? Here's your chance to customize your own! Each reservation includes a blank label so that you can name your vibe.